LIOR | Singer/ Songwriter
Lior burst on to the Australian music scene in 2005 with his debut album - 'Autumn Flow'. Recorded and released entirely independently, and spearheaded by the much loved opening track 'This Old Love'. Subsequent singles 'Daniel' and the title track 'Autumn Flow' both secured high rotation airplay via the national broadcaster Triple J, and further cemented this album into the hearts of the Australian public. The album was released at a time when independently funded and released records were still a rarity, Lior being one of only a handful of artists paving the way for a model that is now deemed common place.
'Autumn Flow' achieved Platinum status and went on to become one of the most successful independent debuts in Australian music history. A swag of accolades followed, including three Aria nominations (including Best Male Artist), as well as Triple J's prestigious 'J Award' nomination for Album of the Year.
Over the past decade, Lior has toured extensively both in Australia and internationally and has been a regular performer at WOMAD and art festivals around the world, including an entire season at the Edinburgh Festival. Alongside his own tours, Lior has also toured in collaboration with artists such as Melbourne vocal group 'Invenio' headed by Gian Slater, as well as several visual artists, string quartets and full symphony orchestras nationally. Lior is renowned for the exceptional quality of his live performances. A testament to this is that Carole King personally invited him to support her and James Taylor on their Australian tour in 2010. Aside from writing and releasing original albums, Lior has developed a keen interest in collaboration and diversification.
Professor Paul Grabowsky AO | Composer / Pianist
Paul Grabowsky is a pianist, composer, arranger, conductor – and is one Australia's most distinguished artists.
Born in Lae, Papua New Guinea in 1958, Paul was raised in Melbourne where he attended Wesley College. During the late 70's he became prominent in the music scene in Melbourne, working in various jazz, theater and cabaret projects.
He lived and worked in Europe and the US from 1980-85, during which time he performed with many jazz luminaries including Chet Baker, Art Farmer and Johnny Griffin. He returned to Australia in 1986 and established a reputation as one of Australia's leading jazz musicians with such bands as his own trio and sextet, the Wizards of Oz and as musical director for singer Vince Jones.
He was musical director of Tonight Live with Steve Vizard (a nationally televised variety show) from 1990-1992.
He was Commissioning Editor (Arts and Entertainment) for ABC Television 1995-98.
He has written the scores for over twenty feature film scores in Australia, the UK and US including 'Innocence' (Paul Cox), 'Last Orders', 'The Eye of the Storm', 'Words and Pictures'(Fred Schepisi) and 'Shiner' (John Irvin). His television credits include the series 'Phoenix' and 'Janus' and the Emmy-winning 'Empire Falls'. His works for the theater include four operas and various multimedia works. His most recent opera, created for soprano Emma Matthews, 'The Space Between', with libretto by Steve Vizard, premiered at Arts Centre Melbourne in September 2018.
He is the Founding Artistic Director of the Australian Art Orchestra, which he led from 1994-2013.
He has won six ARIA awards (most recently in 2016 for his recording 'Provenance' with singer Vince Jones), two Helpmann awards, several APRA and Bell Awards and a Deadly award. He was the Sydney Myer Performing Artist of the Year in 2000, and received the Melbourne Prize for Music in 2007. He was the 2010 Australian National University H.C.Coombs Fellow.
He was Artistic Director of the Queensland Music Festival from 2005-2007 and was Artistic Director of the Adelaide Festival of Arts for 2010 and 2012.
He is currently a Professor at Monash University, and director of the Monash University Academy of Performing Arts and the Monash Art Ensemble.
In 2014 he was made an Officer of the Order of Australia for services to music and arts administration.
Barbara Tanze | Opera Singer
Barbara Camille Tanze grew up in Germany, the USA and Switzerland, where she studied classical singing and vocal pedagogy at the Conservatoire de Lausanne.
As a singer, she performed main roles in several opera productions around Europe, including Violetta Valery at the Slovenian National Opera. Barbara Camille Tanze has won several prizes as a singer and was a finalist of the international singing competition »Festspielstadt Passau 2011«. She still regularly sings on stages around the world with her group »The Petticoat Girls«, interpreting classical and modern songs embedded into humourous stories.
She has taught classical singing in Switzerland in Slovenia, privately as well as in statal music schools. Barbara Camille Tanze was also a guest professor for diction at the Mozarteum Academy of Music Salzburg, Austria. In 2013, she founded her studio Voice up! in Cerknica, Slovenia and started her education in CCM vocal technique and MDH Breathing Coordination.
In 2016, Barbara was one of the first Level 2 certified MDH Breathing Coordination practitioners in the world. She has been teaching workshops for singers in London, UK (Ultimate Artists), Poland (Wold Voice Teachers Expo) and other European countries and will also be travelling to Sydney (Pacific Opera Company), Adelaide (Adelaide Opera) and Hobart, Tasmania this year. Her other main field of interest besides working with singers is the development of the MDH Breathing Coordination method for athletes performing any kind of sports. Thanks to her expertise in this particular field, she has been invited to work with professional as well as olympic athletes in Slovenia and abroad and regularly collaborates with other coaches and specialists. She has presented her case study about MDH Breathing Coordination for athletes in Los Angeles and Long Beach, California and is currently continuing her research about efficient breathing mechanics.
Rebeka Hren Dragolic | Opera Singer
Rebeka Hren Dragolič was born in Nuremberg (Nürnberg), Germany. She studied classical flute and singing at the Academy of Music in Ljubljana (Slovenia) and Zagreb (Croatia). She graduated with a first class honours degree in 2007. She continued her singing studies with Prof. Alexander Brown (Slovenia) and in master classes with Prof. Breda Zakotnik (Mozarteum Salzburg) and `prof. Barbara Camille Tanze (MDH Breathing Coordination). She has won several first prizes in competitions for young musicians. Rebeka's repertoire includes Lied, Mélodie, Baroque music and Opera arias which she performs as a solist and musician in Europe, Asia and USA.
Her voice's versality permits her to sing roles as different as Giulio Cesare (Händel), Orfeo (Glück), Dorabella (Mozart), Cherubino (Mozart), Sesto (Mozart), Musetta (Puccini), Vilja (Lehar) and others.
She is currently teaching singing and flute and is actively participating in the chamber ensemble "The Petticoat Girls" with which she is successfully conquering the European stages. In 2015, the band also recorded a stand alone CD.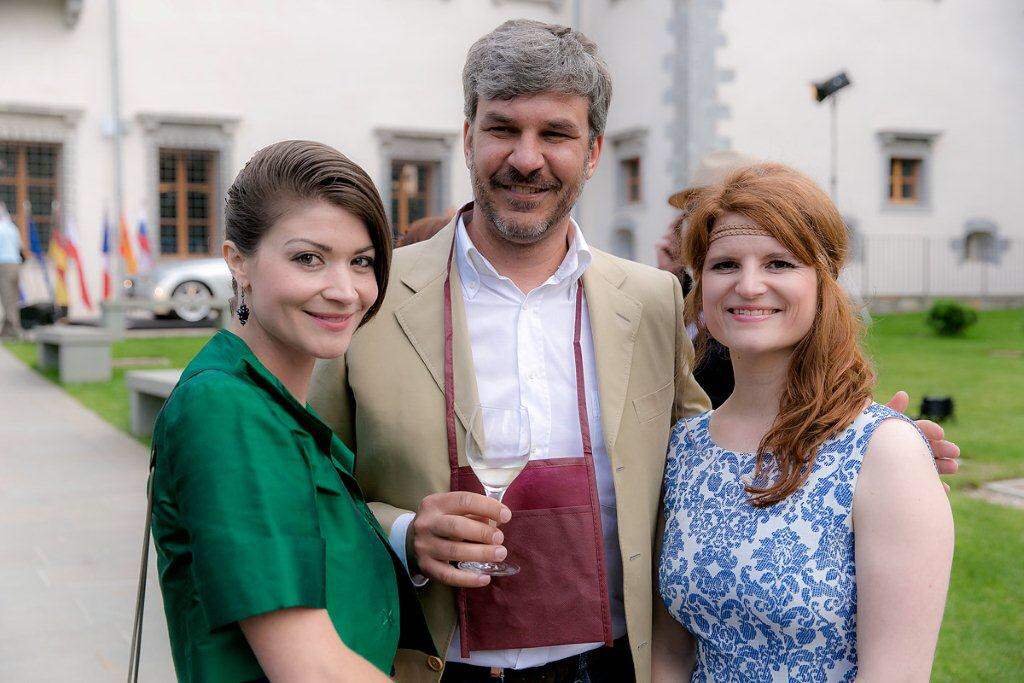 The Petticoat Girls
The Petticoat Girls is an international ensemble founded by the singers Barbara Camille Tanze (Germany and Switzerland) and Rebeka Hren Dragolič (Slovenia) and the pianist Anna Franziska Reif (Germany and USA) in January 2013. Its goal is to promote classical music with a modern twist, a sense of humour while keeping the actual music to its highest quality.
The first programme "Sisters ....in love", a concert tale of 3 sisters whose infatuation with the same men ultimately turns sour, has vast success in German and Slovene concert halls. A CD with several pieces of the concert was recorded in spring 2015. Newer programmes include "Around the world with the Petticoat Girls", which included crossover repertoire as well as classical and folk songs and "Mignon and her composers" aimed at shedding light on one of Goethe's most famous female character. The Petticoat Girls also adapt to the wishes and needs of the venue, offering concert programmes tailored to certain special needs like Embassy receptions, international conventions and charity concerts.
The petticoat girls are known to perform in petticoat style dresses (hence the name of the group) and using modern appliances like tablet computers and mobile phones in their stage performances in order to link the "good old times" with the " good less old times" and finally our current time, for which the verdict has yet to be spoken.
It is the principal goal of this group to inject life into recitals of classical music, making it, what it used to be: a way of entertaining the ones who discover it for the first time and a way to enjoy beautiful melodies for those who are already familiar with them. Trying to offer the best possible interpretations of the music, but sometimes making small alterations without losing the respect for the composer. In a nutshell, giving the public a Petticoat experience!
Etko Tutta | Painter
Etko Tutta was born in 1961 in Postojna, Slovenia, and has been living in an artistic environment since his early years, as he was born in a family of painters.
In 1983 he graduated in painting from the Teaching Academy of Ljubljana, under the tutorship of Professor Milos Pozar.
For a few year he was teaching at various schools in Nova Goriza and in 1992, as he got employed by Hit Casinos, he was able to devote more time to painting and started to use different techniques and approaches.
In recent years he ventured in the fields of sculpture, computer art, artistic installations, graphical design and decoration.
He has received numerous international prizes and held several exhibitions in Slovenia, Italy, Austria, Spain, France, Croatia, Hungary, China, Japan, UAE, Germany and Slovakia.
He is among the founders and director of MMM Art, an international meeting of artists, held every year in Medana, Slovenia and of the Art Circle project.
Veronika Krobs | Painter
Veronika Krobs, based in Munich since 2011, was born in Berlin and has lived in many cities, including Hannover, Frankfurt, Paris, Madrid and Hamburg. Her creative development is based on a professional career in the field of marketing. To broaden her knowledge she graduated in psychology at the Ludwig-Maximilian-University (LMU) in Munich. She has been concentrating on her art since 2004.
Major milestones include: Pentiment International Summer Academy for Art and Design at the Hamburg University of Applied Sciences (HAW); degree in visual arts at the University of Hamburg (Artistic Director Dr. Marina Schneede) and continuing design education at the University of Bremen. Veronika Krobs held numerous solo exhibitions and participated in group exhibitions, various art projects and art fairs.
Today, art - and continually developing herself as a contemporary artist - is her great drive. Veronika Krobs held numerous solo exhibitions and participated in group exhibitions and various international art projects. She also helds painting workshops and offers personalised onsite-consultation for private and corporate customers. In 2015 she joined the art symposium Art Embassy Germany and the United Buddy Bear project in cooperation with the Embassy of the Federal Republic of Germany in Ljubljana, Slovenia and Art Circle.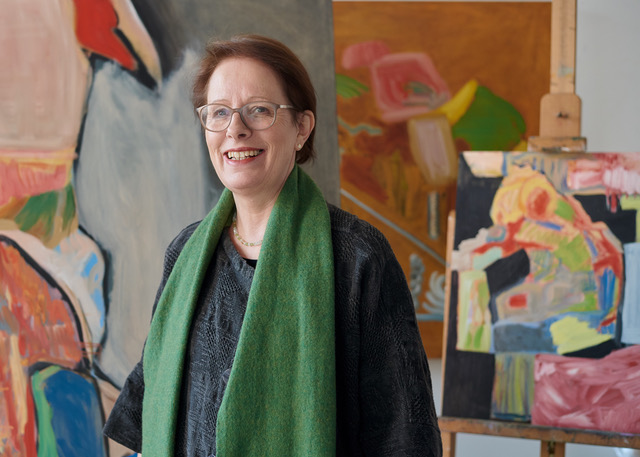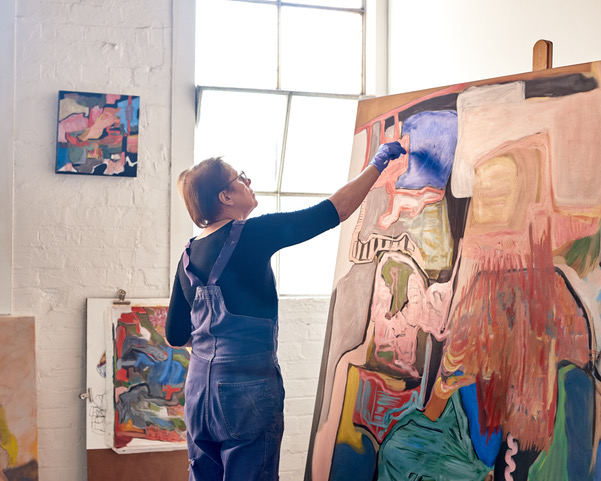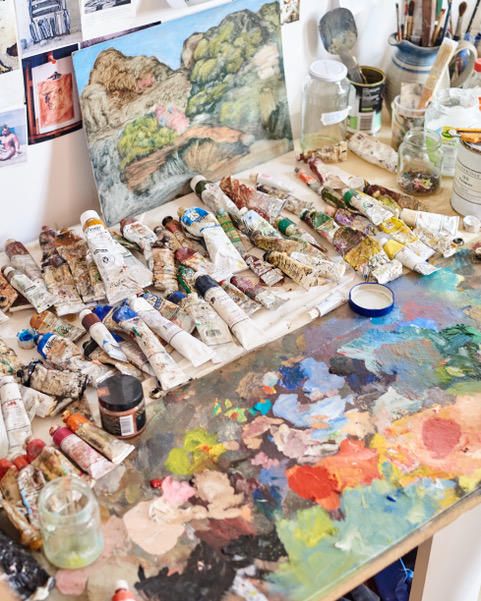 Petra Kleinherne | Painter
Petra Kleinherne was born in Germany and is now based in Melbourne, Australia.
She has lived in Freiburg, Hamburg, in the United States and London.
She holds a law degree from Freiburg University. Her involvement with painting started when she was working in Hamburg, but really gained traction after coming to Australia with her husband in 1981. Initially studying privately with the painters Peter Churcher and Yvonne Audette in Melbourne she involved herself in many artistic activities next to running a business with her husband and bringing up a family.
The Salzburg Summer Academy in figurative painting proved a turning point in 1998. She studied visual arts at Victoria University in Melbourne and holds a Bachelor of Fine Arts from Monash University, Melbourne.
Petra Kleinherne's paintings occupy a liminal space between figuration and abstraction. They hint at discernible scenes while carrying the viewer into the fluid and expressive potentialities of paint on canvas. The painting develops from colour and from the materiality of oil paint. Petra is fascinated by the process of painting and the unplanned spontaneous results.
She has shown in galleries in Melbourne and at the Goethe Institut Melbourne, both in solo and in group shows.
Tsering Hannaford | Painter
Tsering Hannaford is a realist painter based in Adelaide, South Australia.
Portraiture is a focus of her practice and she has been hung four times in the Archibald Prize. In 2014 she was highly commended for the Portia Geach Memorial Award and she has been a semi-finalist in the Doug Moran National Portrait Prize.
Tsering's still life paintings explore themes of impermanence and renewal.
"My greatest ambition in my work is to allow the viewer to feel like they could be standing right there in the room with me- experiencing the same delicate light, the mood, the stillness. In this way I feel I can draw attention to the quiet beauty found in everyday life."
Goran Štimac | Artist
Goran Štimac was born in 1959, in Rijeka. He graduated Sculpture in Academy of Fine Arts in Zagreb, 1988. In 1992, he travelled to Vienna, where he enrolled as a visiting student at the Higher School of Applied Arts, Department of Sculpture. His artistic-educational career began in 1996, when he started teaching at the Department of Fine Arts of the Faculty of Pedagogy. In 2003–2010, he worked as Dean of the Academy of Applied Arts of the University of Rijeka, where he is currently working as a tenured professor.
Goran Štimac has had 50 individual exhibitions of sculptures, Paintings and drawings, and over 120 group exhibitions, both national and international. He has been honoured with numerous awards and recognitions. His works are exhibited in the Galerije Božidar Jakac, Kostanjevica na Krki(Slovenija), Modern Gallery Zagreb, the Museum of Modern and Contemporary Art in Rijeka, and in the Collection of Croatian Contemporary Sculpture in Slavonski Brod.
Goran Štimac lives and works in Rijeka and Opatija.
GSM +00385 98 378 109
kiparstimac@gmail.com
A short excerpt from the catalog, Recession: Gliptoteka HAZU | Galerija I. studeni - prosinac 2014. Zagreb.
... It is in this unique combination of Modern aesthetics and Postmodern experience, in the ambivalence caused by the need for construction and the simultaneous penchant for improvisation, the unpredictability and the constant evasion of rules and ultimate solutions, in the attempt to discipline his own personal style, that the driving force and the provocative thinking of the work of Goran Stimac lies; he is an artist who, by recycling waste and through the incessantly renewed pleasure in creation, by work with material and its substantiality and texture, reveals new meanings implicit in the poetics of the banal and a vast potential of expressive capacities of sculptural form as new paradigm of the art of the post-industrial age.